Need to install a duct for your Air Conditioners and cannot figure out which one to opt for? Or looking for professional help for cleaning your air ducts, but can't figure out what type of duct you have got in your home? Or Don't worry we have got your back. We will guide you through different duct types and how we help you clean all of them.
Flexible Ductwork
This kind of ductwork is made of a metal wire coil and is covered with a layer of flexible plastic. The flexible air duct also has thermal insulation made of glass wool, though other materials like polyethylene or metalized PET. Flexible ductwork typically looks like a cube and has no elbows or offsets. Your house probably has a Flexible air duct if you are low on space.
Rigid Ductwork
Rigid Ductwork comes in a variety of shapes, sizes, and Materials. A rigid duct can be customized according to customer needs. They are hard, reliable, safe, and enduring. The different types of air ducts (Rigid) are as follows:
Sheet Metal Ducts
Usually, Galvanized steel and aluminum are used in the making of this type of ductwork, but aluminum is preferred because of its lightweight and ease of installation. The best part of having installed a sheet metal duct is that you don't have to worry about dangerous mold .and other growths as both the materials are non-porous in nature and thus restrict the growth of mold in air ducts.
Fiberglass Lined Ducts
Rigid ducts type can also be lined with Fiberglass. This duct is very similar to sheet metal ducts but they have internal or external fiberglass lining. These ducts are preferred in commercial buildings and offices as fiberglass Lined air ducts have the ability to dampen the sound of the air conditioner.
But fiberglass lined duct is not recommended as these ducts can deteriorate and
Can release small particles of fiberglass into the air. Long-term exposure to these fiberglass particles can pose serious health issues like asthma etc. Moreover, fiberglass is porous in nature and thus allows mold and bacteria to grow. Fiberglass-lined air ducts are relatively difficult to clean.
Fiberboard Ducts
Fiberboard is compressed and resin-bonded fiberglass which is then laminated with a foil sheet. This lamination protects them from moisture. A fiberboard air duct is mostly preferred for heating and cooling systems because it is insulated. But just like the Fiberglass lined air ducts, these air ducts are not recommended for ventilation as they too can become a home to mold and bacteria.
Which One Is The Best?
Though there are different types of ductwork available in the market today, Sheet metal is most recommended as this type of air duct is non-porous in nature and thus does not allow mold or bacteria to breed in the air ducts. Sheet metal ductwork also helps you prevent the potential health risks of fiberglass air ducts. Don't forget to clean your duct system on a regular basis to keep your indoor air quality in good condition, if you are not sure when to clean them you should read our post about how often air ducts should be cleaned and learn more about that.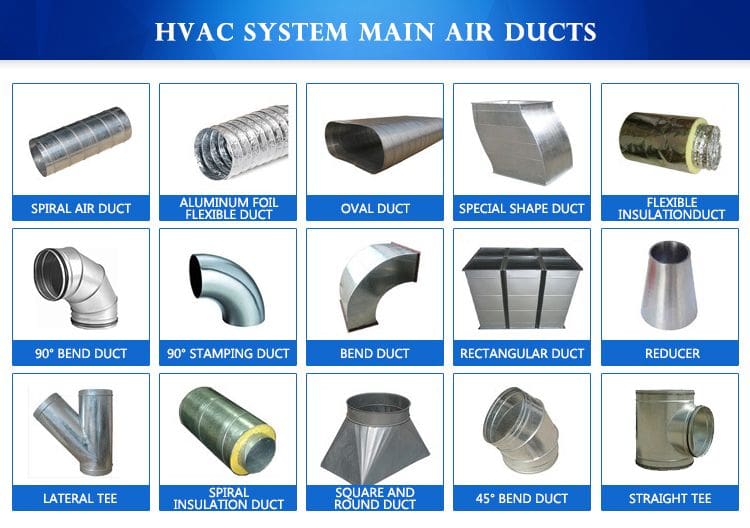 If you have got less space in your place you can definitely opt for a flexible air duct. This type of air duct will not only save you some space but also gives you the freedom to move the duct to and fro.
How The Duct Kings Can Help You Clean All Types of Ductwork
Because ducts are delicate in nature, they should always be cleaned by a professional. Here is what we can do for you.
Our Experts at The Duct Kings are just the perfect choice for duct cleaning as we have the experience, expertise, and correct equipment for cleaning your air duct at utmost perfection.
Trained Staff
We at The Duct Kings make sure that we provide the timely and right training to our staff so as to give our customers an experience beyond expectations. Our staff is highly trained in cleaning different types of air ducts, so you choose us and be sure of the quality. We also keep updating our staff with the most advanced duct cleaning procedures just to be sure that our staff is up to date and can provide the best service to our customers.
Expertise in Cleaning All Types of Air Ducts
The Duct Kings has made a mark in the industry, our staff is highly experienced and hold expertise in cleaning all types of air duct. We are all you will ever need for cleaning any type of ductwork be it galvanized steel, fiberglass duct, or flexible duct.
Free Duct Leakage Test
We not only provide what you pay for but beyond. With every air duct cleaning service, you get a Free Duct Leakage Test as well.
About 30% of every dollar spent on heating and cooling is lost because of duct leakage. But worry not!!! When you have us, we will do a duct leakage test for free. So technically we do not just serve you for what you pay us but beyond. We also help you save on electricity bills with our free duct leakage test.
Pay us for ductwork cleaning and we gift you a free duct leakage test.
No Hidden Fees
We at The Duct Kings follow a fair price and transparent cost policy. In most cases, we are able to provide an estimate over the phone with no hidden cost. The price we give is the price you pay. So, if you see signs your air ducts need cleaning don't wait until it's too late, give us a call today!
NADCA accredited
We make sure that we follow guidelines and standards set by the National Air Duct Cleaners Association(NADCA) so you can totally rely on our services. When it's the Duct Kings cleaning your ductwork you can just sit back and relax because our professionals will take care of the rest.
We are just a phone call away. We can answer all your concerns on a phone call and also give you an estimate. Call us for any queries/concerns. We will be more than happy to assist you.