Dallas Mold Remediation and Mold Removal
Full-service Mold Removal and Mold Remediation Services
Commercial and Residential
Asbestos Removal
Locally Owned and Operated
Highly Knowledgable and Trained Mold Remediation Technicians
Mold Remediation and Restoration Services in DFW Metroplex
The Duct Kings Dallas is a licensed mold remediation contractor company through the Texas Department of Health Services, our IICRC-certified Applied Microbial Remediation Technicians have experience as well as skills to assist your residence or organization impacted by fungal growth. With the seriousness of this situation both for the architectural stability of your residential property as well as for potential health risks that can arise to your family and you from exposure to active colonization, we understand the importance of arriving promptly to these mold cleaning projects.
Our water damage restoration technicians understand how quickly mold colonization can get out of control, so we work quickly to set up containment barriers both with physical clogs of plastic bed linen as well as through the application of our industry-leading equipment like hydroxyl generators and also air scrubbers. With reliable techniques for nest removal experts, we work to protect and also preserve holding materials as well as only get rid of and rebuild these areas when the damages have actually ended up being also extreme.
Despite where your Dallas County residence or business might be, our IICRC-certified AMRTs can respond 24/7 with efficient remediation techniques to make mold and mildew damage in no time!
Removing Mold in North Texas
The Duct Kings Dallas offers mold elimination and also professional mold removal in the higher Dallas/Fort Worth area and is certified by the State of Texas for Mold Remediation. We can give you a quote for mold and mildew clean up solutions after a mold assessment and method have actually been set by an environmental company. A protocol is a rundown of exactly how the remediation requires to be managed, if we do not have one we would be unable to offer a price quote for remediation.
Mold Cleanup Process​
The Duct Kings mold removal technicians follow our tactical and plan methodical mold abatement as well as remediation process to clean up the mold and fix your building to your fulfillment.
We are accredited by the State of Texas and also comply with these steps to correctly clean up and also remove mold according to state laws.
Examine Mold Damage – We use advanced moisture-meter equipment to gauge moisture in your floorings, walls, cabinets, as well as ceilings. We after that utilize infrared cameras to recognize the beginning as well as the extent of the damages.
Extract, Remove, and Dry Water Immediately – Our mold removal professionals make use of commercial-grade dehumidifiers and also water removal and also removal equipment to dry out your floorings, walls, carpets, and cupboards to contain damages and also moderate mold spread and also growth.
Secure The Affected Area – To stop the mold in your home from spreading, the polluted location is sealed off making use of plastic bed linen. We after that create negative atmospheric pressure to guide the mold far from the indoor room.
Dispose of Affected Components and also Materials – Some products will need to be taken care of, such as ceiling ceramic tiles; insulation; wall surface boards; carpet; soft home furnishings; clothes; documents; and books. Non-porous steels, glass and also difficult plastics might be cleaned and also recycled. Depending upon the level of mold damage, semi-porous timber may be cleaned up by drying, sanding, and also treated with an ecologically risk-free anti-microbial solvent before reusing.
Heating, Ventilation and also Air Condition System Treatment – Your heating, ventilation, air conditioning, and crawl spaces will certainly be dried, cleaned, and then treated with HEPA filtration to remove staying mold and mildew fragments.
Whole House Mold Sanitation – To disinfect your home from mold growth, we use adverse ions (electrically-charged fragments) to remove airborne contaminants.
Mold Damage Repair and Restoration– https://www.theductkings.com/ has full-time expert mold damage repair and restoration crews available to restore, repair, and also recover your Dallas-Fort Well worth house from mold damage.
Call us at
(214) 624-6232
What is Mold
Mold is a type of fungi that can be found just about anywhere, including both outdoors and indoors. It is believed that there are thousands of species of fungi.
The actual amount is unclear but is known about mold as it thrives in damp, humid and dry conditions. In order for mold to spread and reproduce, it must make spores, which can be picked up by pets and humans and carried indoors. Mold spores are even more durable than normal mold growth because they can survive in the harshest conditions.
As mentioned previously, molds can be found indoors and outdoors. But, what you may not know is it can survive in the harshest environmental conditions, which means it grows year-round. With that said, warm, humid conditions are what encourage mold growth.
Mold can be found in decomposing vegetation and in damp and shady outdoor areas. Mold growing indoors will generally occur in areas where the humidity is extremely high. These places include bathrooms, basements and attics.
According to the Centers for Disease Control and Prevention, high mold exposure areas include mills, flower shops, summer cottages, greenhouses, saunas, farms, mills, construction sites and antique shops.
The Types Of Mold in North Dallas
Common types of mold in homes include:
Chaetomium
Aureobasidium
Aspergillus
Alternaria
Cladosporium
Fusarium
Penicillium
Serpula Lacrymans
Trichoderma
Ulocladium
If mold is growing in your home, it will most likely be among the types named in the above list. To determine if the substance is mold, mold testing and a mold inspection will be required. This test will determine the true nature of the blackish, greenish substance in your home.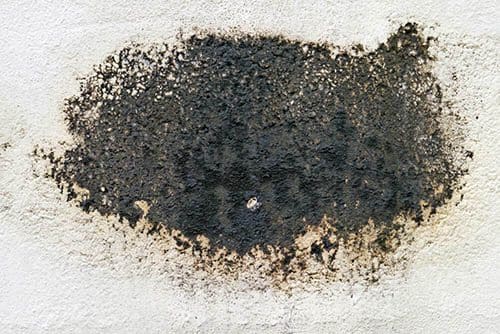 What Is Black Mold
When black mold, Stachybotrys chartarum, occurs in homes, it can be a very dangerous and costly problem. This type of mold is extremely harmful to humans and pets, which is why immediate treatment is recommended.
Black mold feeds on what is known as "organic materials". These materials include everything from carpet to drywall to insulation, all of which have been exposed to moisture.
As black mold feeds on these materials, it releases spores. When these spores are inhaled or ingested, they can cause a broad range of unwanted, dangerous symptoms in humans.
How Mold Builds Up
A single spore can cause mold growth in damp, humid indoor areas. As long as mold has access to damp organic materials, it will continue to produce spores until it becomes harmful to the humans living in the home.
If at any time these spores are disturbed, they will spread and because of this, it is very important to isolate the damaged area. As long as the mold is left undisturbed, it will continue to do damage and spread.
Remember that mold and water go hand in hand. If you're dealing with water damage leaks, there is a high probability that you're also going to be required to deal with mold. After all, the excess moisture will create a good environment for the mold and that will allow it to thrive and grow.
With that being said, you should try to kill two birds with one stone. Duct Kings offers the solutions that you're after at the lowest possible prices. After we clean up the water or moisture damage, we'll go ahead and get rid of the mold as well. We promise that we'll remedy the problem quickly and conveniently.
We Serve Dallas and Surrounding Cities:
Get A Free Estimate Today